User experience has become an integral part of the web design process, and it is therefore one of the most popular topics among marketers and brand developers today.
Creative and interactive user experience is beneficial to both businesses and users in many ways.
For businesses, a well-design user experience allows them to increase conversion rates as visitors access relevant information in the fastest way possible, and complete intended behaviors, such as purchasing an item or logging in, with ease.
For users, a well-crafted website usability-wise seems to be more appealing and engaging, and thus they're more likely to stay on the page and finalize desired actions.
From Understanding the Customer's Expectations to Creating Highly-Convertible Web User Experience
Given that an efficient and engaging user experience can provide a business with a range of benefits, companies must plan out and develop their web user journeys with careful consideration.
For this process to be successful, it is important to fully comprehend a company's marketing strategy.
The marketing strategy paints a holistic picture of the entire brand development process as it outlines the company's goals, aspirations, values, market expectations, and its approaches to translating all of these components into actionable results.
Marketing Strategy also helps highlight the characteristics associated with the brand, the market they operate in, and their customers.
When one of our clients shared that they were planning to launch a new brand on the market, we knew we want to start with the basics.
The client provides innovative telecommunications solutions for entertainment and multimedia providers. We understood their target audience was looking for outstanding methods of communication, so we have to look for:
new generation visual elements,
engaging web journey ideas,
and unconventional approaches that would retain user attention and reflect the client's out-of-the-box brand.
In the previous article, see how we approach the user experience development process at UNDOTS STUDIO.
Engaging and Innovative Web User Experiences Reflect the Client's Unique Approach, Vision, and Offerings
Knowing how the development process looks like, and what are the core ingredients of every successful collaboration, take a look at some of the features we decided to include in the client's final website:
1. Minimalism
One of our main goals was to emphasize interactive elements and thus fully engage users into experiences the website offers. As a result, the website has been designed simplistically, as this allows users to focus on what matters most.
2. Full Screen Web Experience That Engages
For users to soak up the brand and feel fully engaged, the website provides a full-screen user experience.
In addition, we made use of the following elements:
large images,
big fonts,
and soft colors
to help capture and communicate the client's brand identity.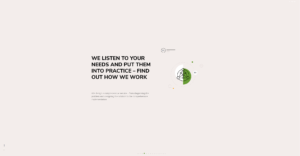 3. Intuitive Navigation
Easy and effortless web navigation is something that we all strive for as mobile and web users.
This is why we instituted easy navigation features which make the user experience as smooth as possible and enable streamlined navigation across the page using:
the mouse,
a scroll down icon,
or navigation circles.
Overall, this feature made it easy for users to quickly find what they were looking for. 
4. Animations
Users scroll through dozens, if not hundreds, of websites a day. We had to make sure that our client's website keep users engaged, intrigued, and willing to come back. By incorporating features like:
text flows,
graphic elements that move across the website,
and static animations,
we were able to create a memorable user experience that stands out.
***
If you have any further questions, contact us – we're happy to connect!